Moments later, inside the Pokemon League…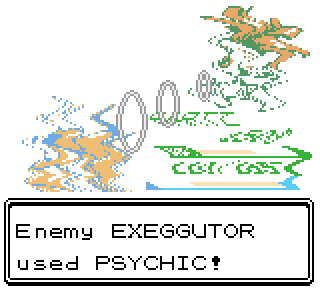 Nice try, Will, but not nice enough. Bartz?


Yes, master?

Huh. You're a lot more articulate than your predecessor was. Anywho, finish this loser.


Happy to.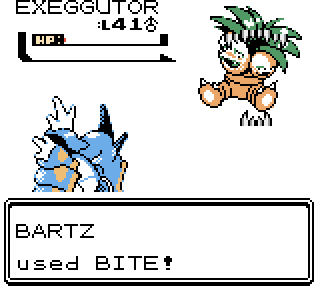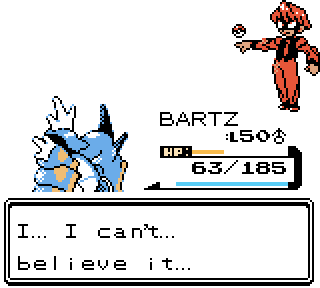 Next!
Now it's time to put our League-busting team to the real test: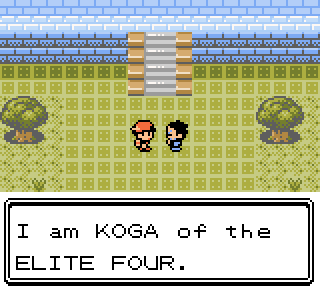 We've gone over this before.

This time, Koga is going down.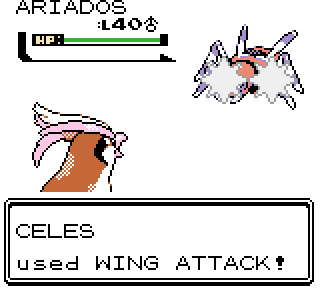 Ariados is just the first victim of our onslaught. Even still having no earthy idea what type Forretress is can't stop us.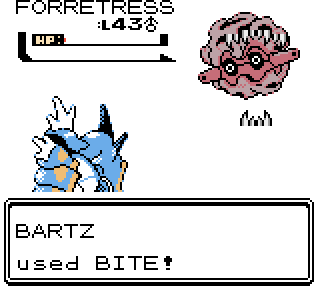 Then it's the moment of truth.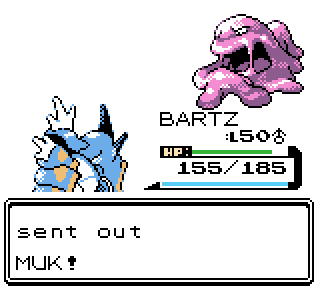 We're no closer than we were last time to knowing what's best to use against a poison-type like Muk… but we do have one trick up our sleeve.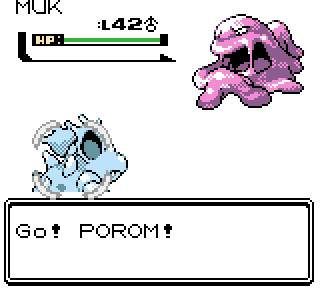 If there's one thing poison isn't effective against, it's other poison-types.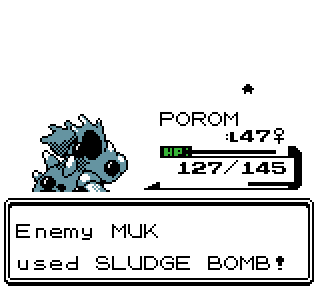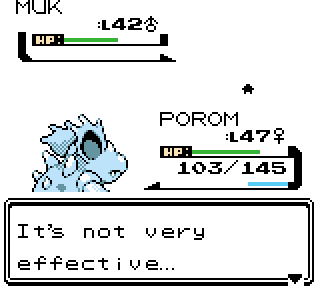 The sludge bomb that devastated our entire team last time we were here? Porom shrugs it off like it was nothing.
Looks like I'm a vital member of this team after all.

I always believed in you.

Liar.
But it's still a long haul.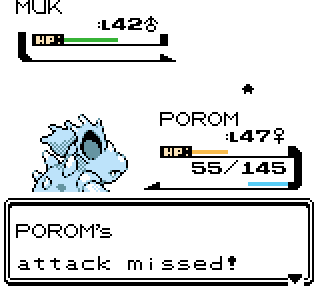 Koga's muk boosts its evade ceaselessly, and Porom can barely get a hit in edgewise.
It takes one of our hyper potions to keep her alive long enough, but finally Porom delivers the killing blow.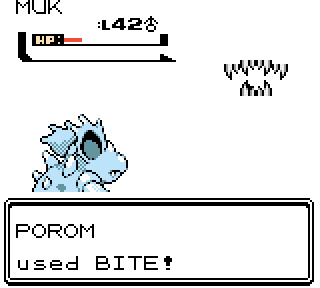 Revenge is sweet.
The last two Pokemon in Koga's arsenal are easy-pickings after that.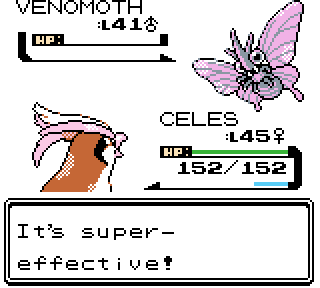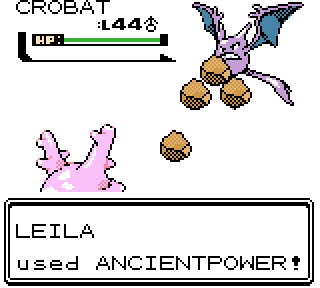 The Elite Four is down to the Elite Two. Who's next?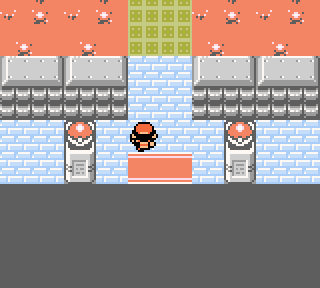 Well, there's lava. You know it's getting real when there's lava.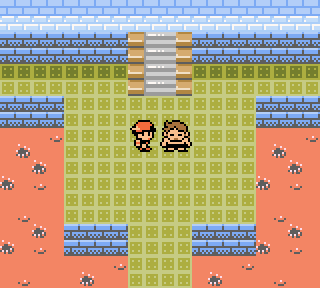 Everyone's pretty close to full health, but we waste a hyper potion getting Bartz back up to 100%.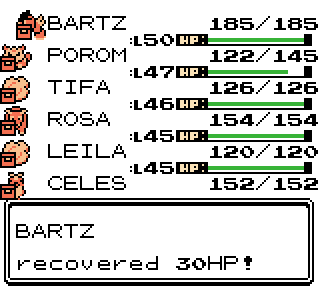 Better safe than sorry. Unless we need that potion later…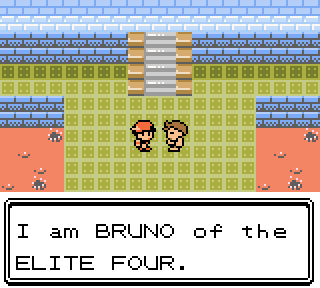 Ready, Cid? You will bow down to our overwhelming power! Hoo hah!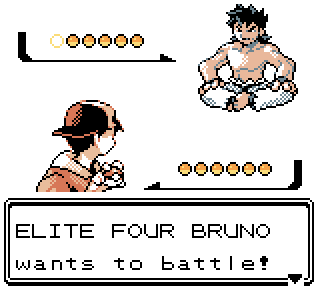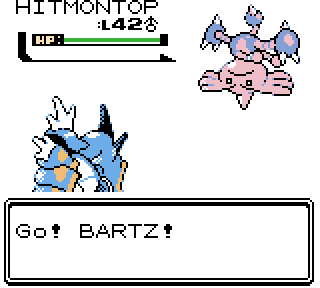 Fighting. Why did it have to be fighting?
I was never able to prove that theory I had that psychic would be effective against fighting. And we don't have any psychic attacks at our disposal now, so it's not worth wondering about.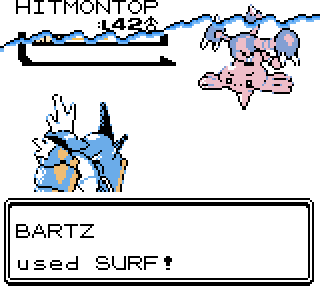 In any case, water seems to be doing well enough as a substitute.
That's two that Bartz has been able to drown.
Number three is even luckier: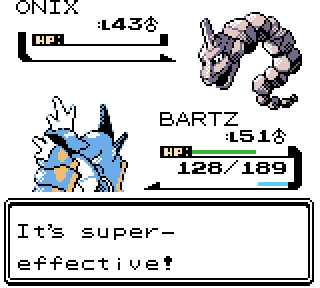 Onix versus Surf. One and done.
But our luck doesn't last.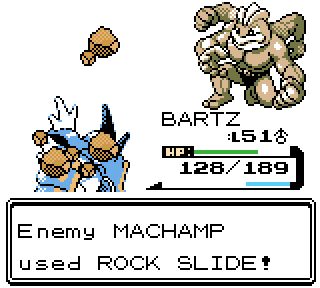 Machamp's Rock Slide is enough to bring Bartz to near-death. We need someone who can eat up rock attacks but who's not afraid of fighting-types.
Sounds like a job for Rosa.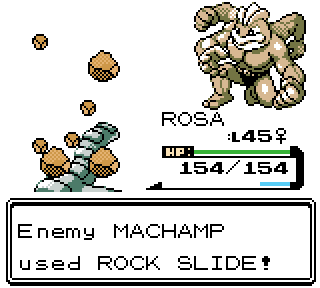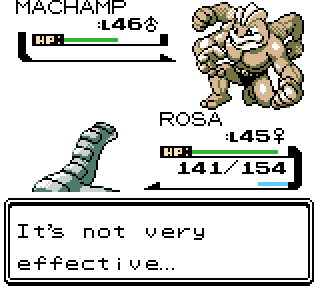 That's more like it.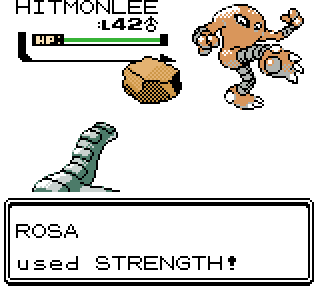 She pummels the machamp and hitmonlee — Bruno's last Pokemon — into the dust.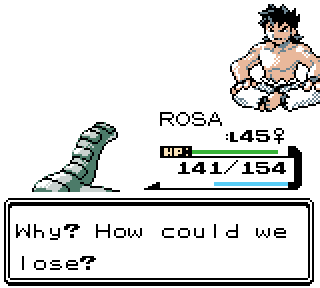 Three down. One to go.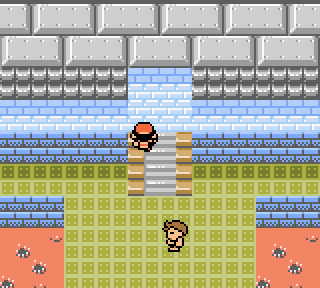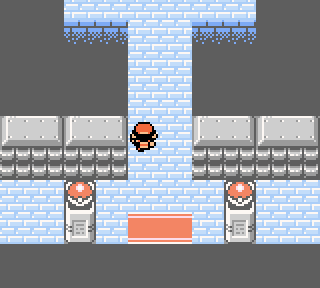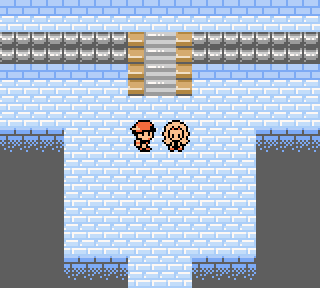 Here we are. Healed up and ready to roll.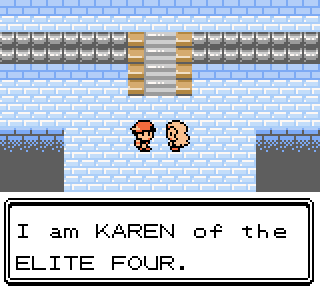 I love dark-type Pokemon. I find their wild, tough image to be so appealing.


A least you're kind enough to tell me what type you'll be using. That was your first mistake.

Except remember that part where we're incredibly ignorant about type-advantages? Pretty sure that includes dark.


I know not to use ghosts against it.
We don't have any ghosts!

Not yet. But we might real soon.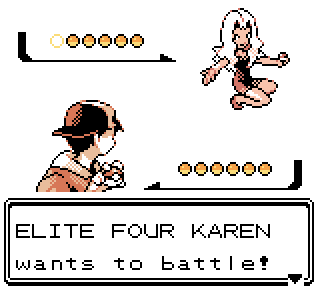 Actually, only one of Karen's Pokemon is pure dark-type: Umbreon.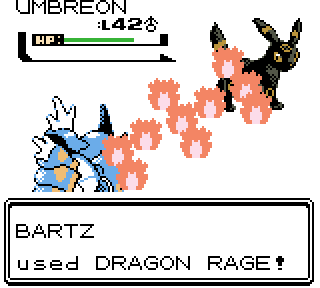 Against which Dragon Rage is perfectly effective, if a little slower than we might like.
After that, it's Gengar…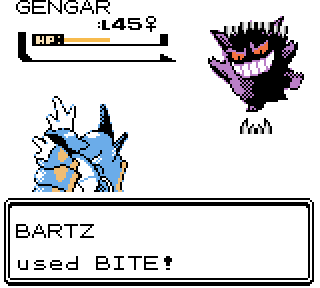 …who Bite makes quick work of, as usual.
Then Murkrow. Who I assume is flying-type and we could easily wipe out with a rock attack, but that's hardly necessary.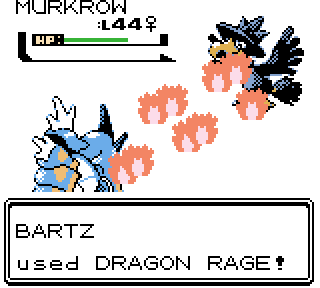 Followed by Houndoom. Water makes quick work of fire.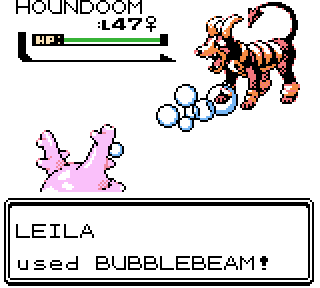 And finally…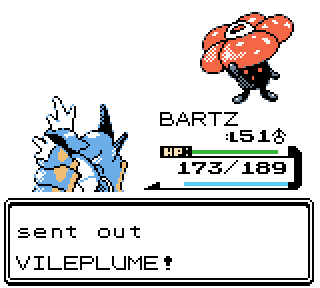 Wait, what's a vileplume doing in a dark-type lineup?

Oh well. Celes, you're up.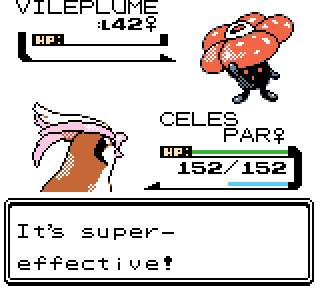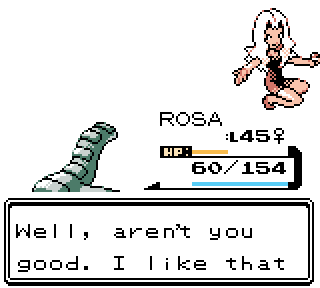 The Elite Four are kaput — beaten by a little kid.
It's really kind of embarrassing if you stop and think about it. Some of these trainers have been at it all their lives. I've been training for, like… a few weeks. Tops.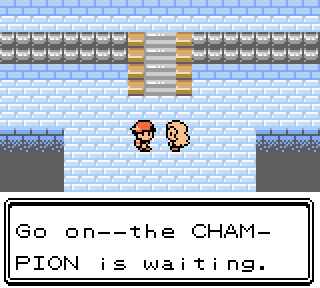 Oh. We're not done?
Nope. There's one last door.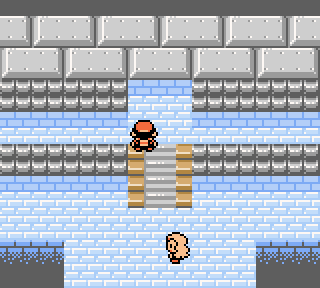 After a few more potions, we press on.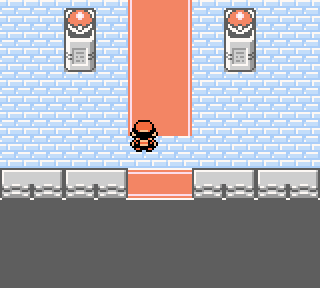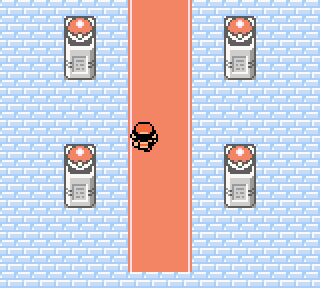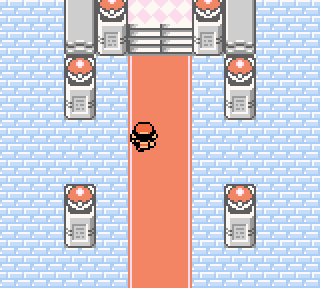 One more battle awaits.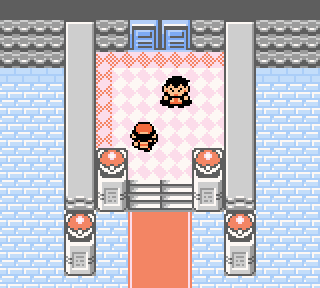 Lestat! Long time no see, man! What're you doin' here?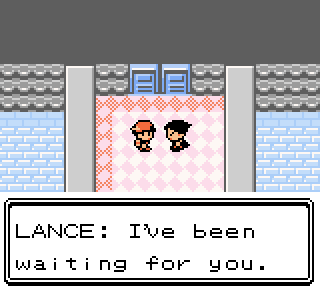 It's "Lance," by the way.


Whatever.

You may be an idiot, but I knew that with your skills, you would eventually reach me here.


Skills? Really?


That… or perhaps your complete inability to feel remorse, no matter how many Pokemon you hurl to their deaths.


That's the nicest thing anyone has ever said about me.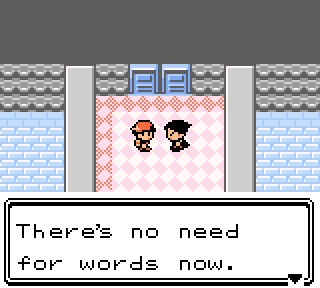 As the most powerful trainer and as the Pokemon League Champion… I, Lance–


de Lioncourt.


–the dragon master, accept your challenge!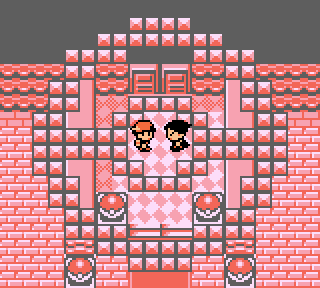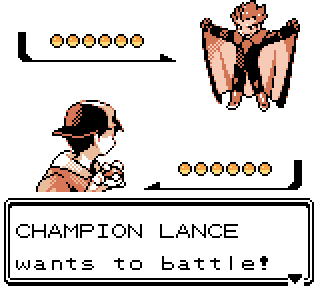 Bring it, Vampire Boy.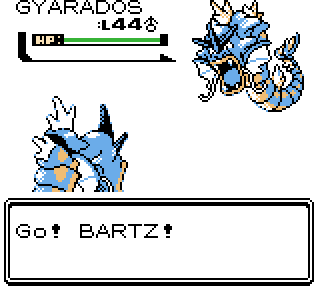 So it's Lance's gyarados versus ours. Bartz's got seven levels on him, though. Should be pretty one-sided.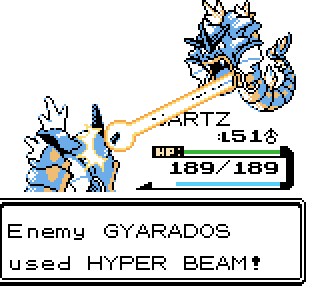 Whoa, what? Bartz didn't learn Hyper Beam until level 50!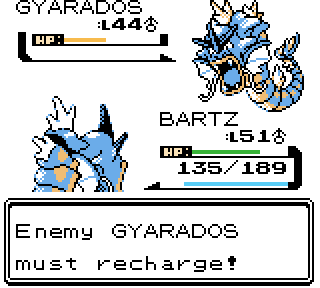 Oh. It only does about fifty damage. That's underwhelming. And he's losing his next turn every time. Which means we're outputting significantly more damage with plain old Dragon Rage.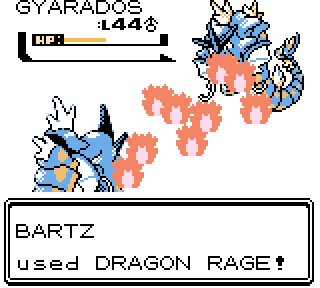 Four blasts and the gyarados duel is over.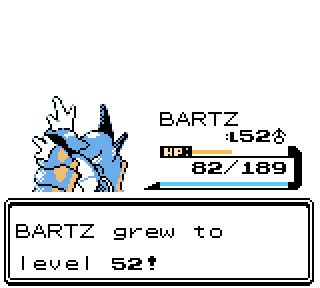 Five Pokemon left between us and victory.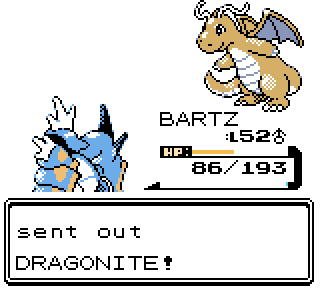 What a cute, pudgy little cartoon dragon you are, Dragonite. I suspect your looks are deceiving, though.
Let's heal up.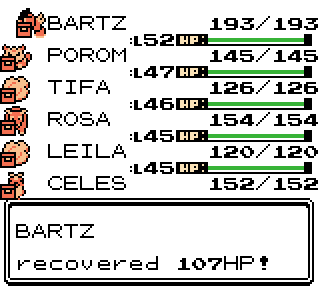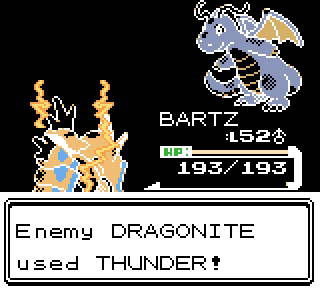 Wow! I guess that potion was a good call.
Remember how electric moves do four times damage to Bartz? …yeah.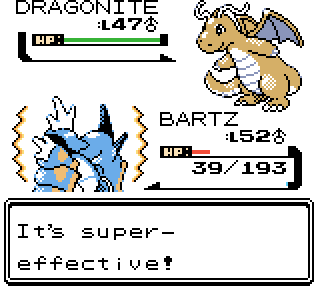 Dammit. I was not expecting lightning from this guy. Bartz, you're done!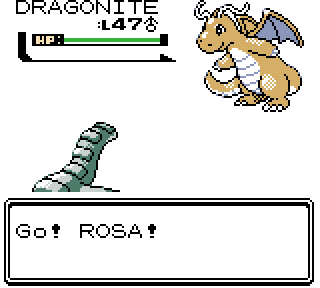 Rosa's ground-type should soak up the Thunder quite nicely.
Question is — is Dragonite electric-type on top of dragon? Or does he just use electric moves?
We're about to find out.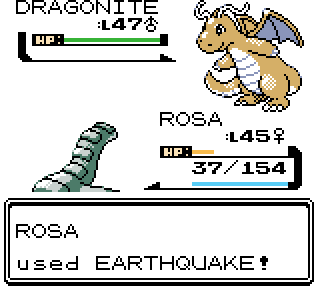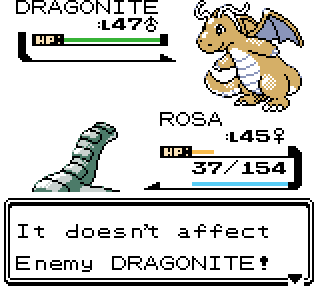 That answers that.
Meanwhile, it starts blasting Rosa with the big guns.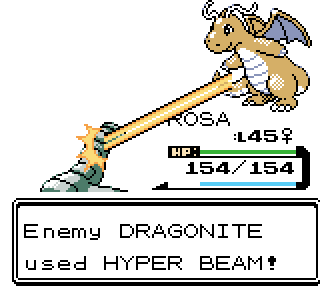 Crap! Rosa, drink this!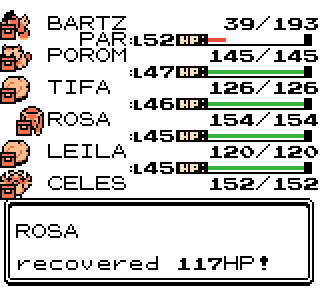 The pause after Hyper Beam gives us a chance to heal up and prepare for the next assault.
The next assault turns out to be a Twister, which causes Rosa to flinch.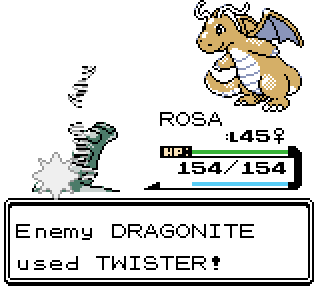 Then another Hyper Beam. Which necessitates another hyper potion. We're burning through potions at an alarming rate, but this one finally gives us an opening.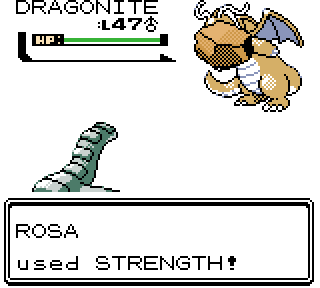 We take it. And the next.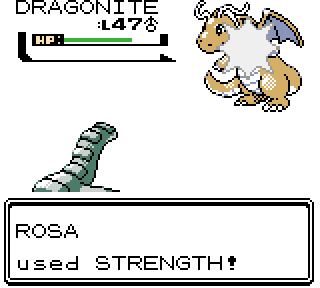 For a minute, it's a flurry of boulders, tornadoes, and laser beams. We're hemorrhaging potions, but somehow Rosa comes out on top.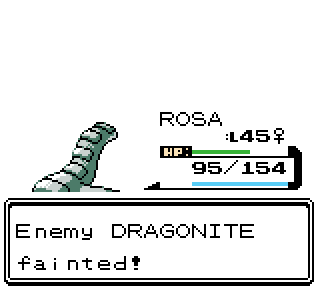 That's two.

But at a high cost. We've burned through half our supply of potions already.
And bearing down on us is another dragonite.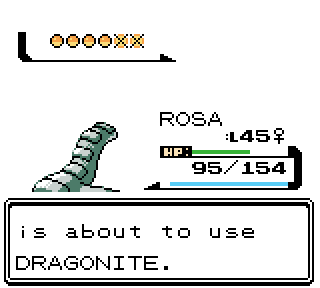 This one seems like it's ice-themed. Instead of Thunder, it leads off with Blizzard.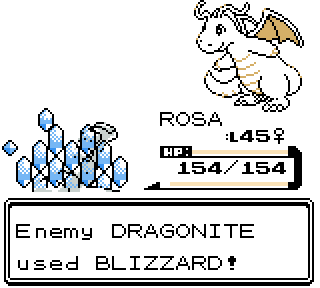 Rosa isn't a fan.

Rosa, you're tapping out! Porom, go!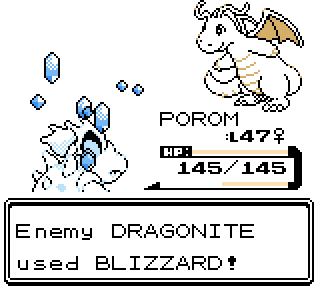 Uh… just kidding. How about Tifa?
Water should be able to stand up to ice. She doesn't do too bad against a Hyper Beam, either.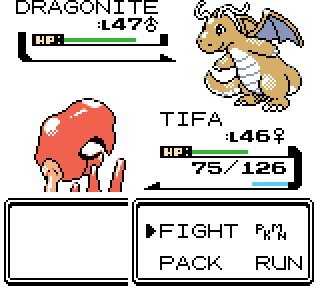 Fifty damage. We heal up and then go on the offensive.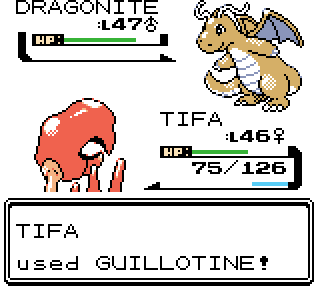 Unfortunately, my Guillotine gambit doesn't exactly pay off. Stomp it is, then.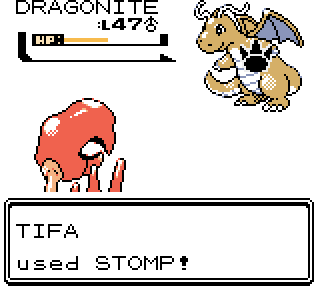 That's when we get the upper hand.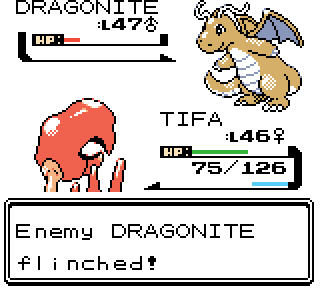 While we're thrashing the dragonite, we heal Bartz up to full in case we need him later, then turn our attention back to the battle.

Finish him!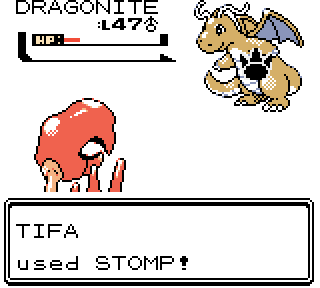 You're done, Dragonite.

And in rushes the next one.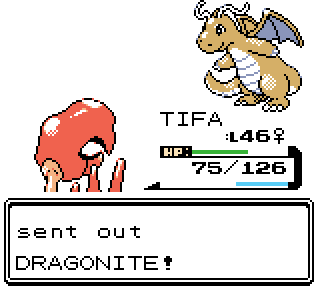 Is this for real or am I caught in some temporal loop glitch?

Let me guess: this is the fire dragonite, to complete the jRPG elemental trinity.


Guess again.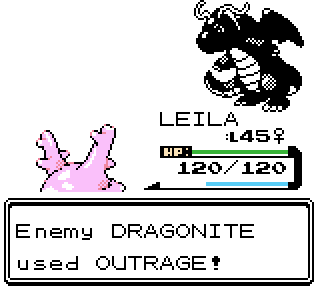 This one's signature move is Outrage. Whatever that is. All I know about it is that it does lots of damage.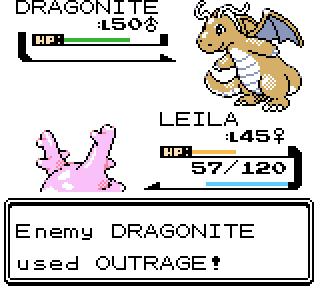 On the plus side, we've finally found something that's super-effective against the dragonite triplets.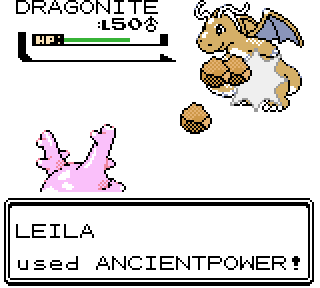 In retrospect, I probably should have guessed that they were flying-type.
We keep her healed as Leila lays into the towering dragon with everything she's got. I can't help getting a bit of a David and Goliath vibe off the ensuing battle, complete with stone-throwing.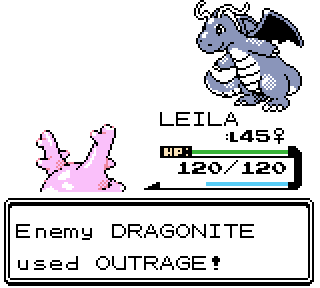 She holds her own until…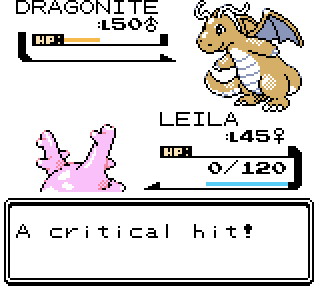 I never read the Bible, but doesn't Goliath lose?
Gosh, that one hurt more than it should have. What a tiny, innocent, valiant soul…
Hungry for revenge, a freshly-healed Bartz comes crashing back into the battle.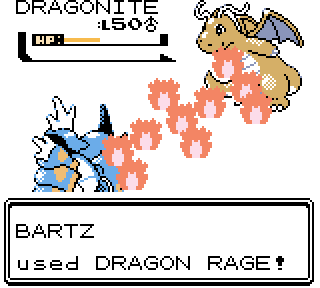 Please enjoy this red-hot dragon breath.

Bartz shrugs off a Hyper Beam and continues the rager.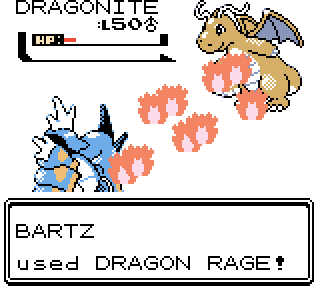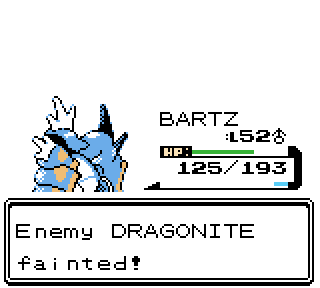 You're runnin' out of bodies, kid.



Two vee five ain't very good odds, Lestat.


My name is LANCE.

The next one goes in swinging.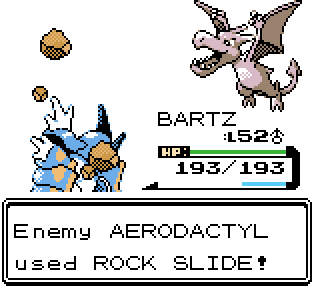 Finally something new. Though I could do without the Rock Slides.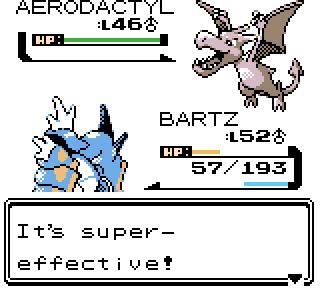 Balls. Uh… er, Porom, get in there and bail him out!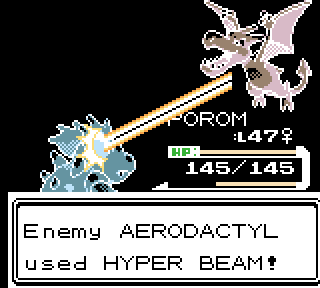 Oh god why.


Sorry… I just needed someone to take a hit while I heal Rosa up.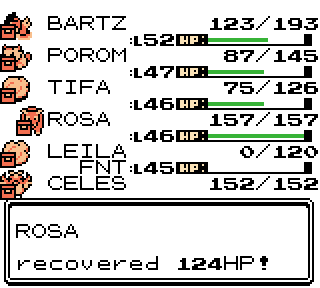 You are the worst kind of human.

Then in comes Rosa with her boulder-tossing trick.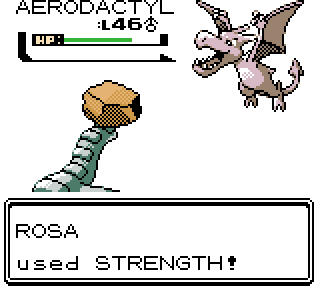 The game keeps telling me it's not very effective, but it's plenty effective for my liking.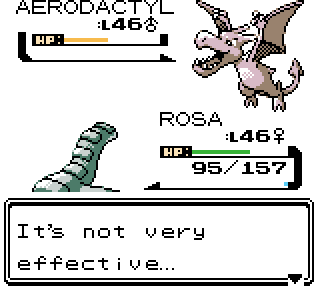 The aerodactyl's attacks, in contrast, can't seem to do more than a sliver of damage once Rosa's buffed up with a few Defense Curls.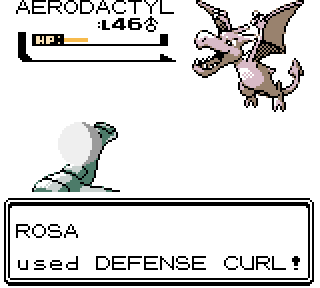 That's all the advantage we need to wipe the floor with Lance's poor fossil.

We've blown through five of his Pokemon. And it's only taken about twenty hyper potions to do it! That leaves us ten more to continue laming it out with. So unless Lance has something massive up his sleeve, he's done for. What'll it be, buddy?

One last chance, Lestat. You'd better make it count!


Oh, I will…
[dramatic swell of cacophonous string instruments]
To be continued…