Having cleared out the Team Rocket goons from Azalea Town and easily dispatched poor Garland for the second time, we're free now to take a look around.
Aside from some fresh gear and a few pointers from the townspeople, though, the city's only got one thing to offer us: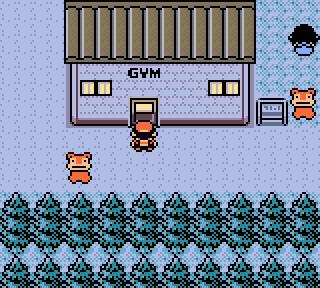 The Azalea Town gym.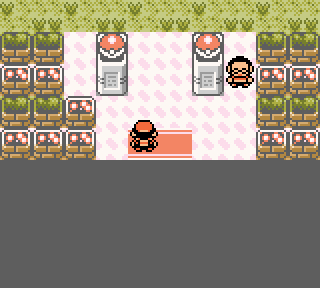 It looks like the theme for Azalea High's senior prom is A Bug's Life.
Luckily, we've got just the thing to deal with bugs. According to the helpful chap at the entrance, fire- and flying-types are super-effective against bugs. And we've got one of each.
Sure, we could wait and level up a little, but I'm feeling pretty good about our odds right now.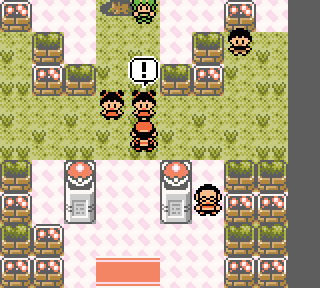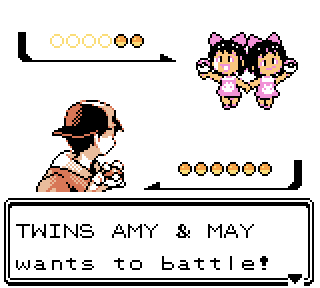 Celes tries out her new Gust attack.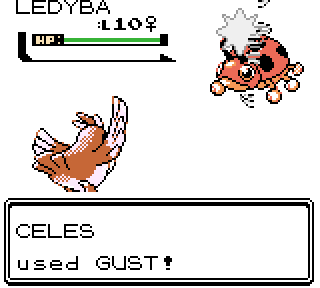 It's enough to one- or two-shot everything the bug twins throw at us. Even their spinarak's fearsome, er… Scary Face attack can't stop her.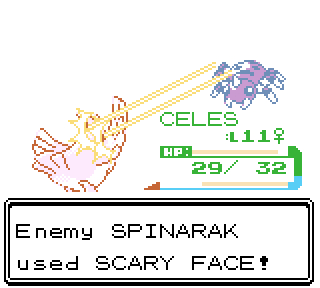 More trainers follow, and all of them get wrecked. Celes is unstoppable.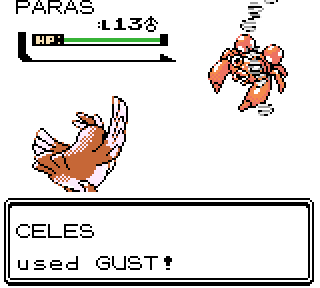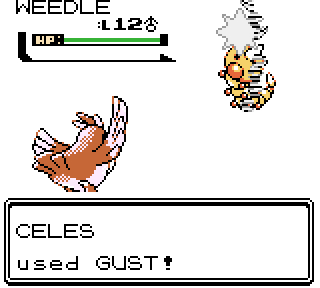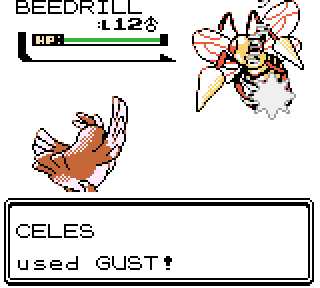 She's gone from level 11 to 15 — just from these gym battles. And that's before the gym leader.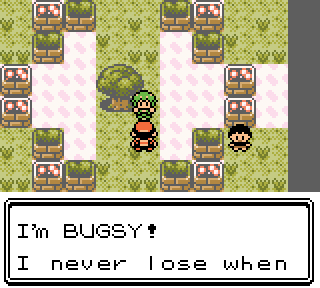 I never lose when it comes to bug Pokemon. My research is going to make me the authority on bugs.


God you're a nerd.

Let me demonstrate what I've learned from my studies.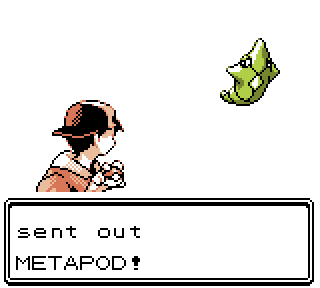 …a-are you serious?
Bugsy hits us with a metapod and then… a kakuna.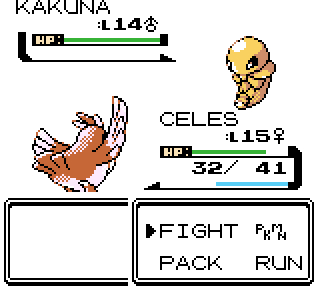 Cocoons? You're battling me with cocoons?

Are you aware that cocoons are not particularly effective in combat? Even I know that, Bugsy.


You'd think he would have learned that in his "studies."
It's something of a fake-out. Celes annihilates Bugsy's first two Pokemon, but the third one turns out to be an actual threat.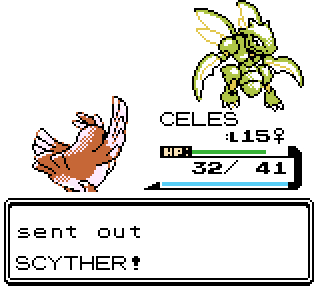 Scyther's faster than Celes, but thankfully his Fury Cutter hardly hurts her at all.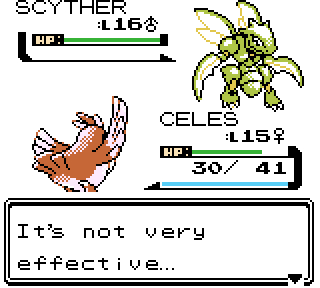 That is… until he scores a crit.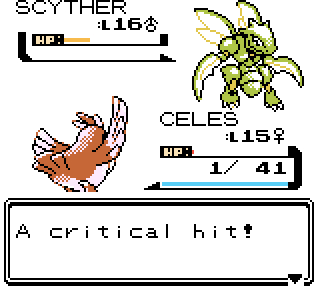 WHAT.

Ugh. I didn't sign up for this.
But Celes gets her revenge a moment later.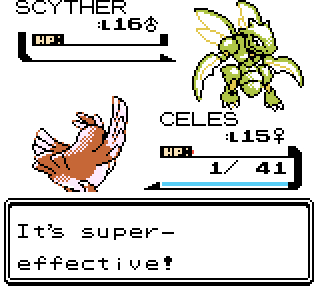 Scyther — and Bugsy — are done.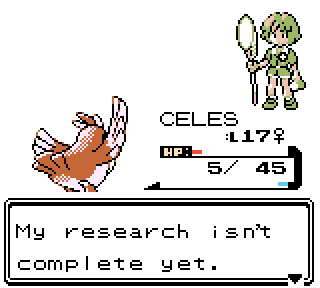 Judging by this fight, I don't think it's started yet, kiddo.

After that underwhelming fight, Bugsy hands over the Hivebadge and we head back out into the great big world.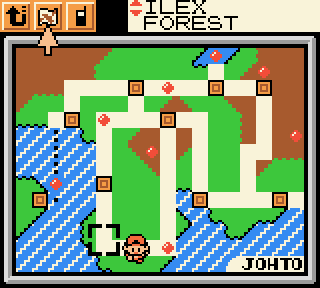 Next up is the Ilex Forest.
Before we move on, though, we should probably stop by Professor Elm's and tell him that egg hatched. I suppose he'd want to know.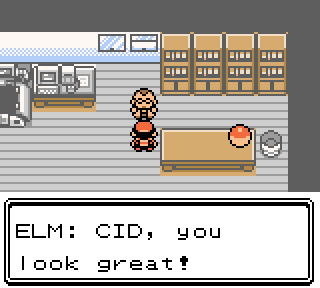 Thanks. You want this Pokemon back? It hatched from the egg.


What? That Pokemon? So Pokemon are born from eggs…?

HOW can you and Oak study Pokemon for YEARS and not know that? How are you a scientist?


There's still a lot of research to be done.


Yeah, no kidding. I'm leaving now. Bye.

Back at Azalea, we pass through the building on the edge of town — and here we are in the Forest.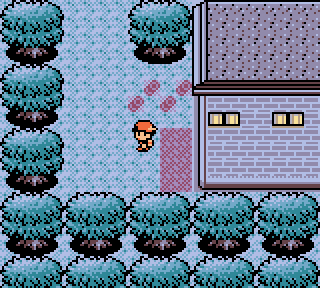 Our first run-in is with a zubat, which we've already got.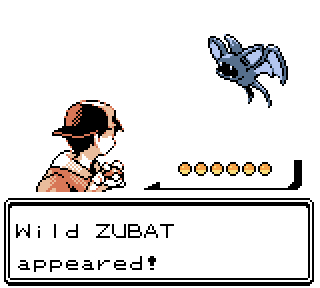 So we're allowed to skip that one.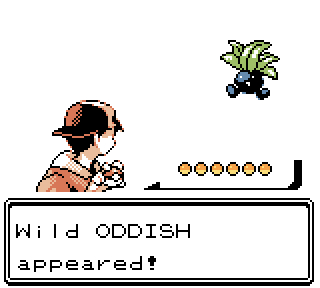 That's more like it. We grab the oddish and keep moving.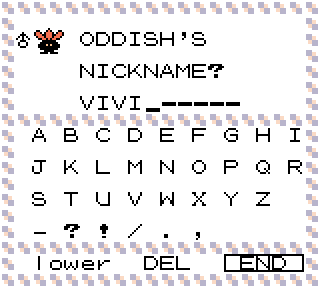 Just beyond the next bend, there's a dude with a small problem.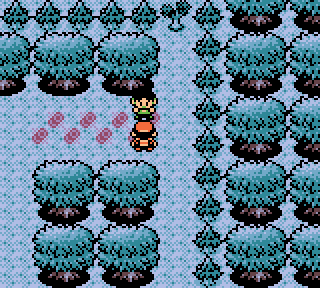 Apparently he lost his boss' farfetch'd, which coincidentally has the Cut move we would need to get through that shrubbery to the north.
How convenient. I guess we should help him find it, then.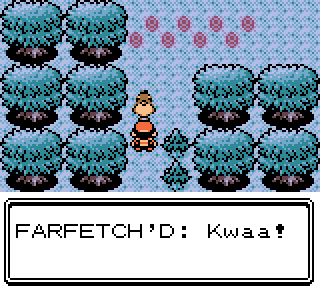 We make our way deeper into the forest and spot the missing farfetch'd in no time. It doesn't like being followed, though. Every time we track it down, it takes off running.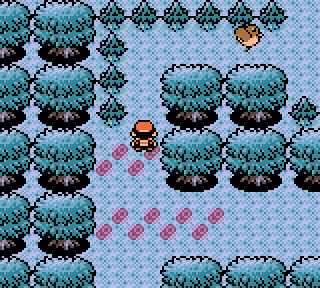 Eventually we're able to herd it back toward its owner. He nabs it and the boss shows up to thank us.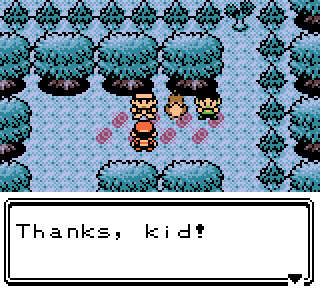 With a shiny new HM containing Cut.
Hardly anyone can learn it, though. We end up going back to town and grabbing Vivi just so he can be our Cutbot.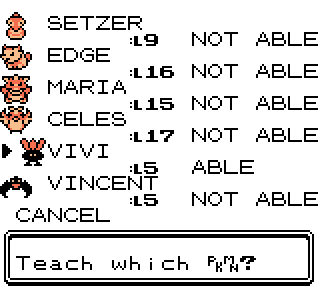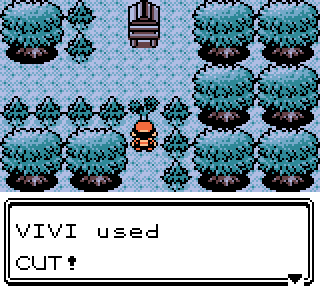 On the other side is our gateway to Route 34.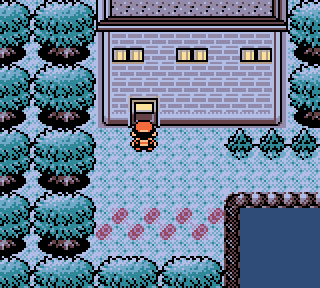 We're a bit worn out from the journey, so we avoid the grass for now.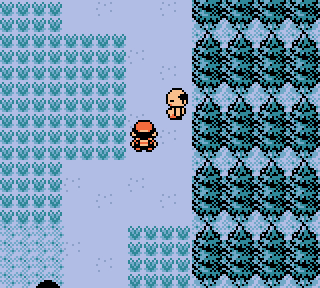 Though that means we still have to contend with some trainer battles.
And some truly ungodly abominations…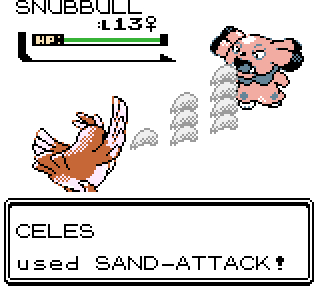 What are you.
In any case, Celes makes it to level 18 and to her first evolution.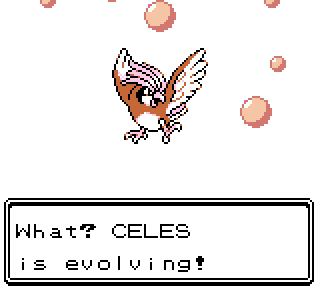 And we find a Pokemon daycare along the road, which might come in handy later for easy leveling.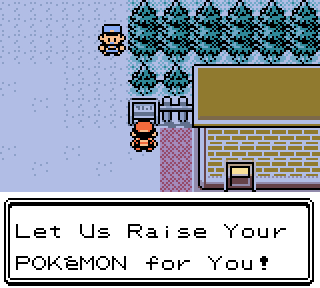 But the main attraction of Route 34 is the city at its end: Goldenrod.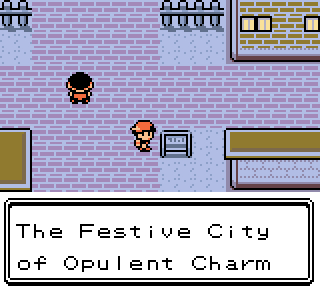 You know a city is rich as hell when they describe themselves as "opulent."
There's a ton to see here. It's the biggest city we've come across so far. There's a huge shopping center, a world-famous radio tower…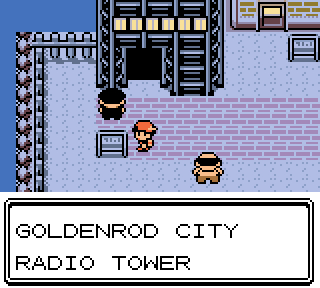 Even a bicycle store, and it's doing so poorly that the owner gives us a bike for free.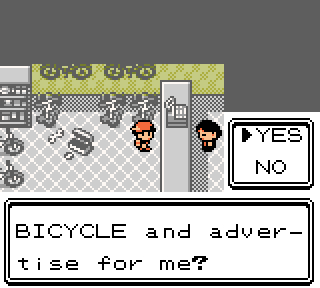 And then there's the Goldenrod City gym, where our next badge resides.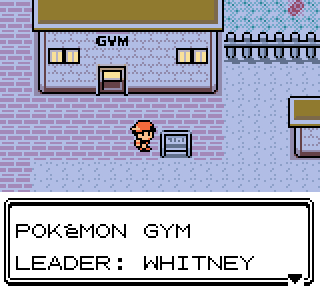 I wonder what type Pokemon they've got here.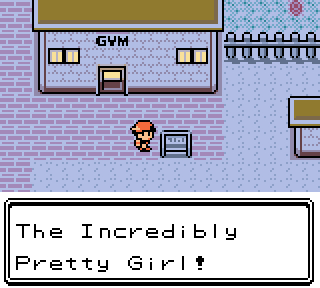 Because I'm fairly certain "incredibly pretty" is not a type.

Man is this town full of itself.
It's a normal-type gym, for the record. And the guy inside says we should fight Normal with Fighting. Too bad we've got none.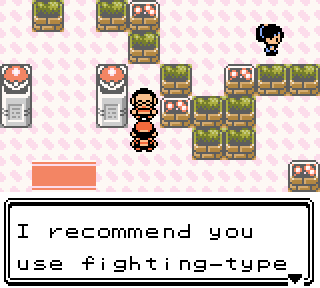 Before we get too distracted by any of that, though, we're going to get our new catch for Route 34: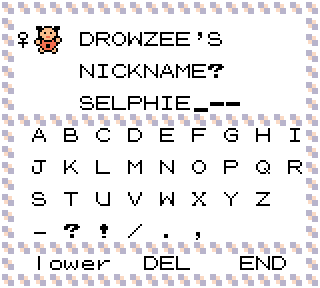 Still no fighting-types, though I seem to recall psychic being effective against just about everything. So she may help. It also occurs to me that we've got a TM sitting in our pack for Headbutt, so we teach that to Maria.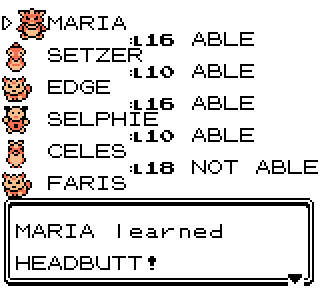 That'll at least give us a fighting move in the–
Wait.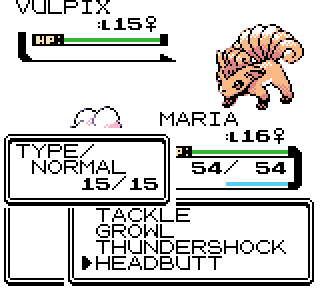 WHAT DO YOU MEAN HEADBUTT ISN'T A FIGHTING MOVE?
…
Okay, Route 35 is just past Goldenrod City. We'll try that.
(Speaking of headbutts…)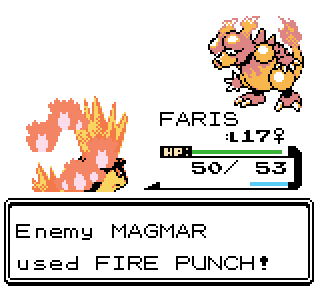 I'm sure the PokeGod had a purpose in mind when he made me to suffer this way.
It's only a couple trainer battles before we've reached the safety of the next gatehouse. There's even a policeman here.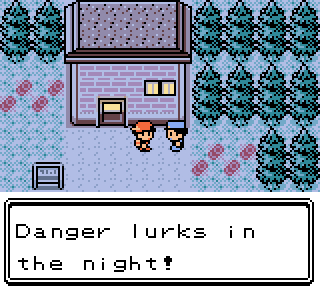 Good to know you're keeping the peace up here. There's this one nut who keeps harassing me on the road for no reason.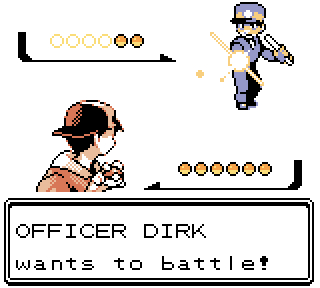 Hey– wait! You're attacking me? YOU'RE A POLICE OFFICER.

And after we put his growlithe in the dirt, this is all he has to say for himself: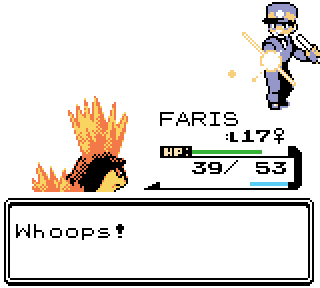 Yeah, "Whoopsie-daisy. I forgot that it was frowned upon for the police to physically assault little kids."

Everyone around me is a psycho.

But the tall grass we've been looking for, at least, is just to our right.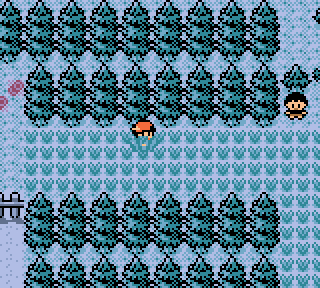 And our first encounter is…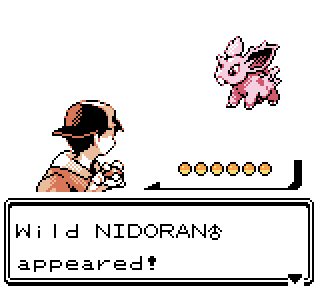 Aw! What a cutie. He may not be a Fighter, but I want him.
Celes gives him a good wallop and we get ready for the catch.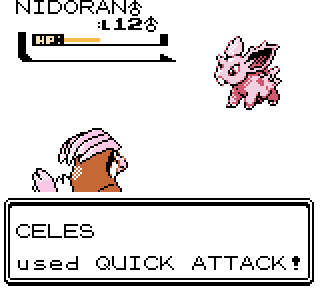 …
…
…
[At this point in the let's play, your humble LPer had a profoundly ADD moment and became totally distracted by an episode of Star Trek. Specifically, that one where Wesley almost gets executed for trampling over the flowers on the weird sex planet.
I have no memory of the next few moments of the game — just that when I looked back down…]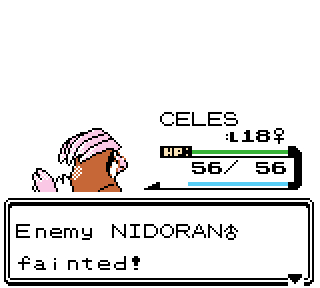 SHIT.