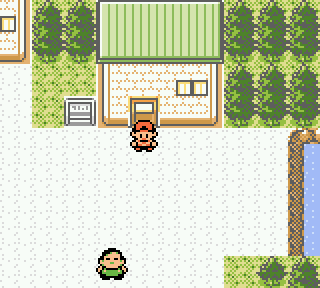 Well, here we are again. Back at the beginning…
There's just one last bit of business left before we can close the book on this chapter of our lives…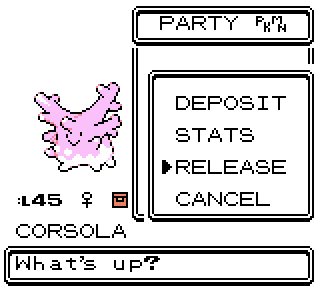 We owe someone a proper burial. The final casualty of my mad quest to become Pokemon Champion.


See ya, Leila.
So that ends our great journey. We've become champions and committed our names in the Hall of Fame for all time, but was it worth it? Was it worth all these lives?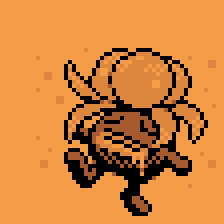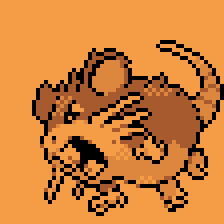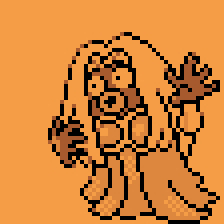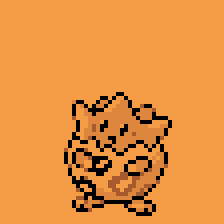 When you put it that way, I really do look like a monster.
You've always looked like a monster.


Well, never again. I think I'll retire to a farm upstate and live out my days as a PokeRancher.

Retire? With what money? The League doesn't give out a cash prize; it just pays in bloated egos.

What, do you expect me to work at the local Market Basket? How could I be a productive member of society after the raw shit I've seen? All the death and suffering?

YOU CAUSED–

Shh! — I've got to take this.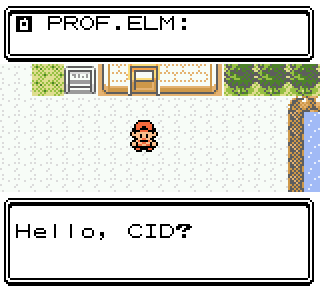 Hey Doc. What's up?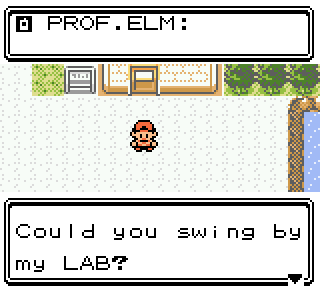 Uh… sure. I'll be right over.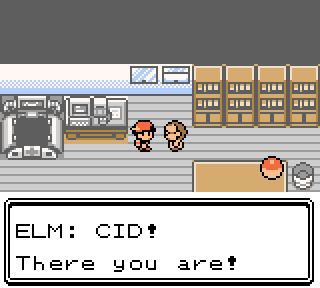 I called because I have something for you.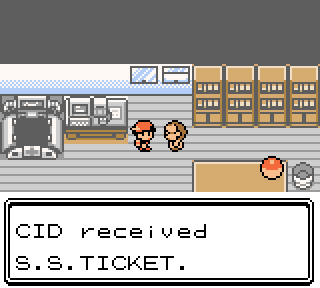 See? It's an S.S.Ticket.


Yeah, I can read. What's it for?


You can take the S.S.Aqua and catch Pokemon in Kanto! Not to mention the eight gyms there to test your mettle. And some people say the old Pokemon Champion, Red, will still battle worthy trainers who can find him.


I'm sorry… Did you say there's another champion to beat? Screw Professor Oak's dumb rating; you mean I could go down in history as the trainer who beat Red?

So much for learning the value of Pokemon lives. And you were so close, too.
Moments later…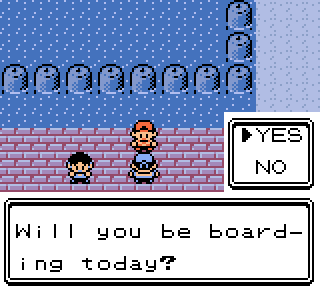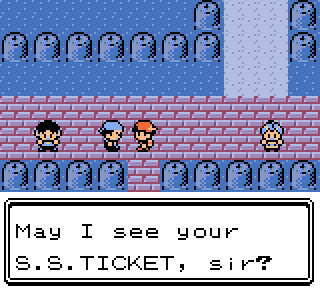 Yes. Yes to all.

And so our hero returned once more unto the breach, dragging his poor Pokemon along with him.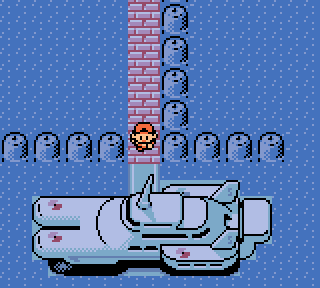 Now, the idea going into Kanto was that we'd change the rules a little. You may have noticed that aside from the two high-profile wipes back there, we've barely lost any Pokemon on this run at all. And with all the new zones in Kanto, we could very quickly have a totally unreasonable number of Pokemon warming the bench. So, as a personal challenge of sorts, I decided that our days of Pokemon catching were over. We'd hit the shores of Kanto with the last dozen or so minions we'd found in Johto and see how far they got us.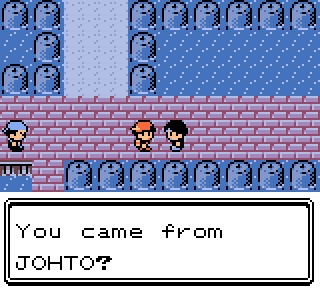 I come bearing gifts of gold, frankincense, and mad Pokemon battling skills.

I fully expected the gym leaders to wear us down and for our numbers to be dwindling in no time. Only… that's not exactly how it went.
First, there was Lt. Surge.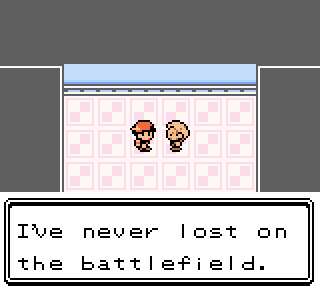 Give it five more minutes.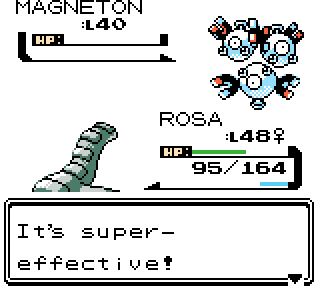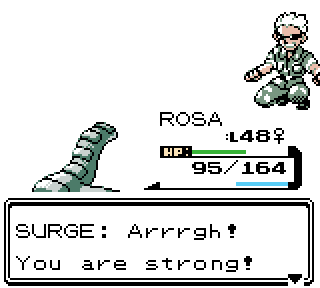 Then there was Erika.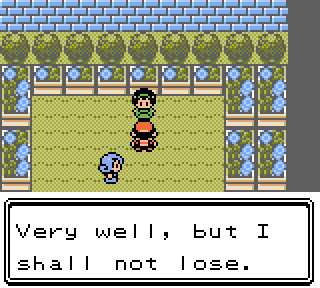 …but she did.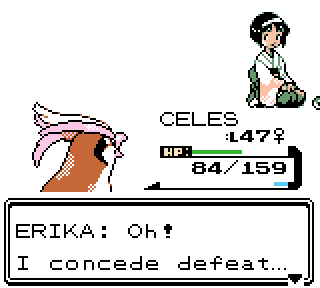 And after that was Janine.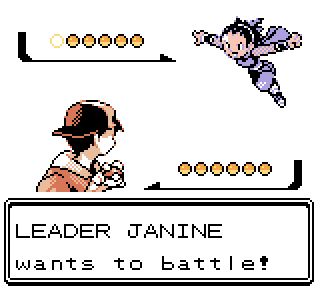 Who holds out long enough for us to make a little realization…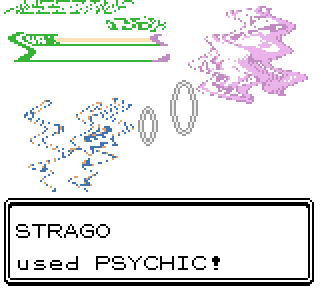 Psychic?! After all that trouble, it's psychic that's effective against poison-types?

Somewhere in the middle of all this, we make a pit-stop at the region's superstore: the Celadon City Department Store.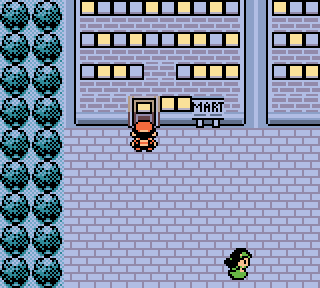 This is where you got the evolution stones in Gen I. The stones that we've been hunting down for half the game. So finally Red XIII can evolve into something useful.

I'll take all the stones you've got, chumps. I'm on a mission.



Hm. None here.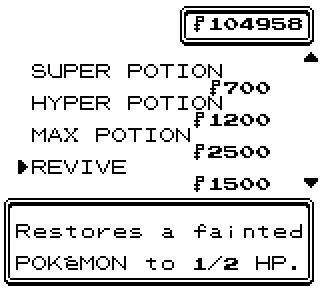 Nothing at this shop either…



Um.


Okay… Definitely at the next shop.

…Boss? That was the last vendor.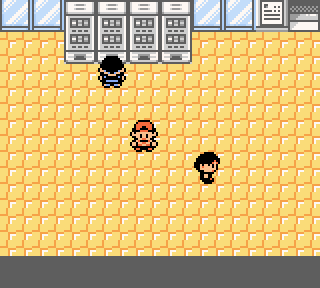 …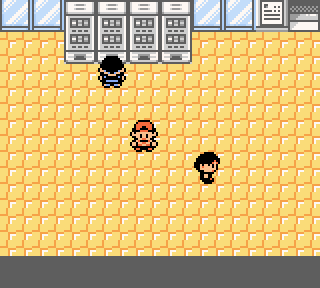 …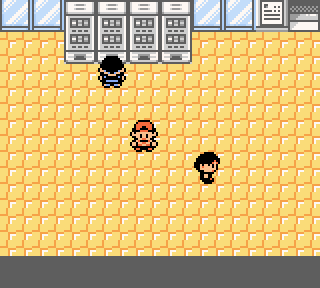 FFFFFFFFFFFFFFFFFFFFFFFFFFFFFFFFFFFFFFFFFFFFFFFFFFFFFFFFFFFFFFFFFFFFFFFFFFFFF–
(I think I took it pretty well, actually, all things considered. I'm able to focus the red-hot anger into decimating the next few gym leaders.)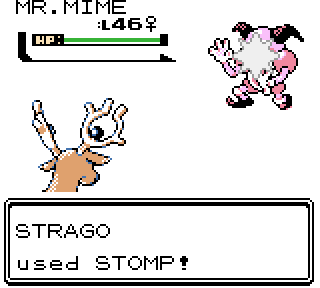 Sabrina…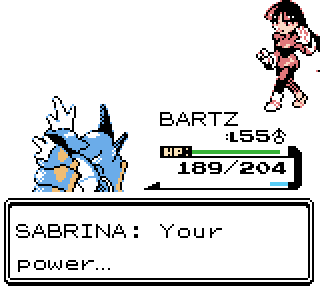 Misty…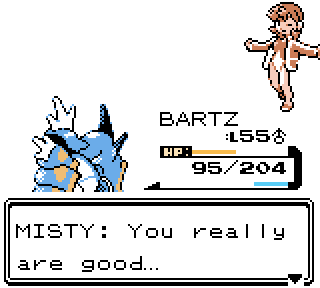 Brock…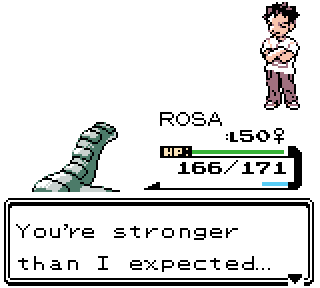 Even this crybaby who claims to be the great fire-master, Blaine.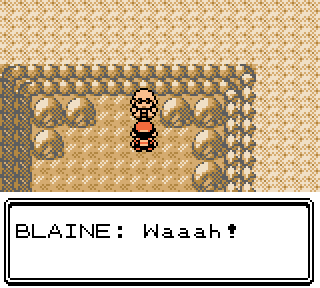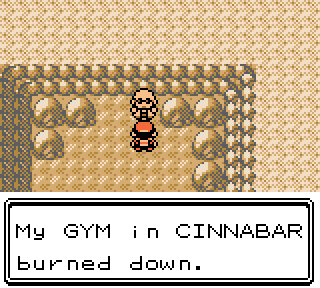 You know what they say about playing with fire.
Once Blaine has yielded, we're down to one leader left on our hit list.
Blue.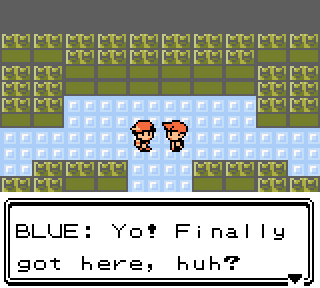 You build this place yourself, kid?

Your mom must be loaded. How much does the My Very Own Pokemon Gym play-set go for?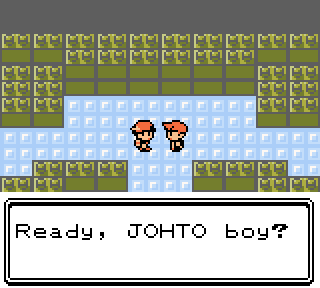 Blue is the one challenging fight Kanto has had to offer so far.
He leads with his very own pidgeot, eight levels higher than ours.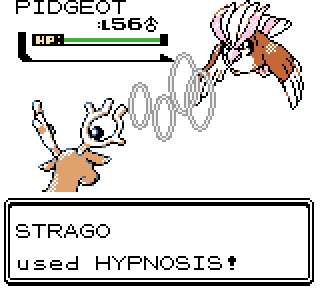 Strago isn't able to keep it asleep long before it starts pummeling him with his own moves.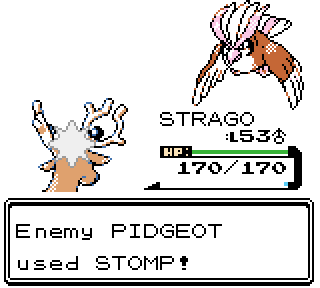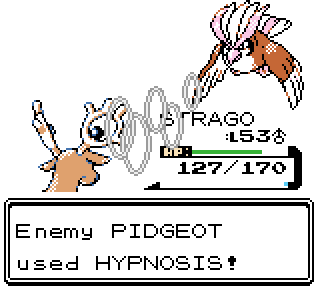 We have to yank him out of there. Thankfully, Rosa is more than up for the job.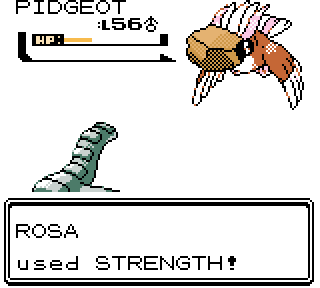 Then it's a Hyper Beam-off.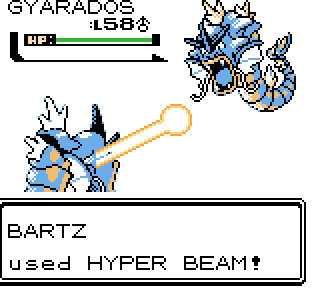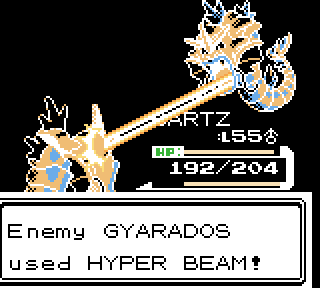 'Cept Blue's higher-level gyarados somehow manages to do significantly less damage… with the same attack. So that one's only a matter of time.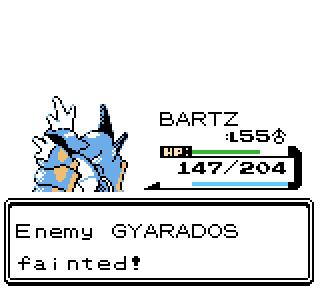 What's next? Alakazam? Nice of you to offer Bartz a mid-battle snack, man.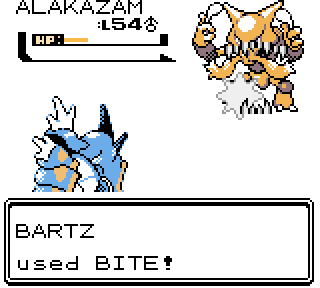 Bartz could probably even have gone for a threefer against the rhydon that comes next, but I don't want to risk his rock attacks against Bartz's flying-type.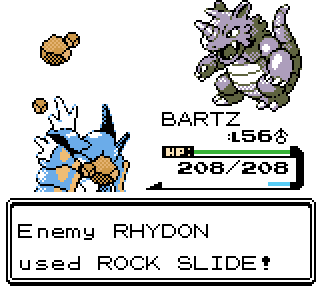 Rosa, though, is able to finish him in a single move.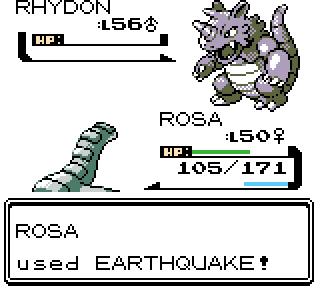 She's not quite as effective against an exeggutor, though.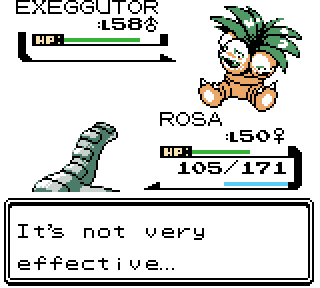 But the idiot Pokemon just sits there sunbathing…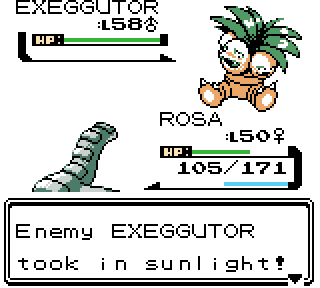 That's the best you've got left, Blue?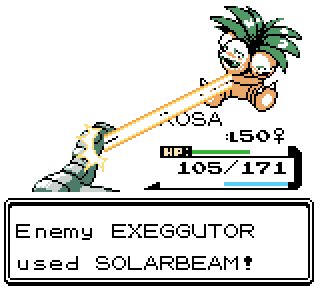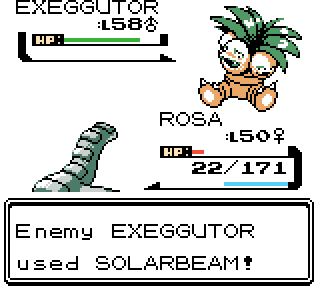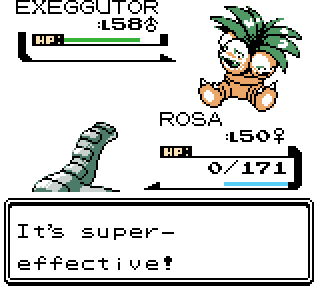 …Oh.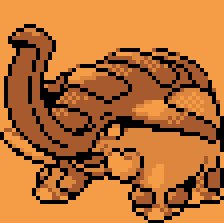 Kanto has taken its first life.

We're done here. You're dead to me, Blue.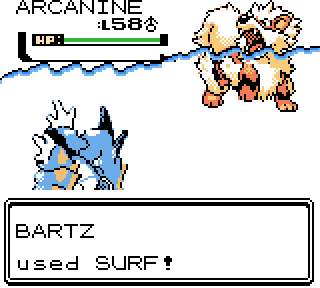 That's six.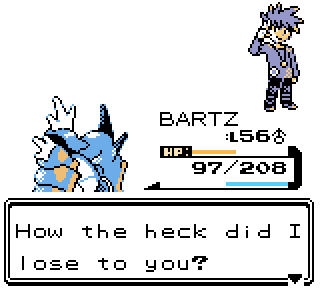 And eight gym leaders.
There's not much left to do now.
Vincent joins us to replace Rosa and solidify our final team…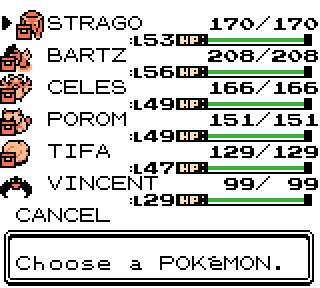 We level her up to parity with everyone else…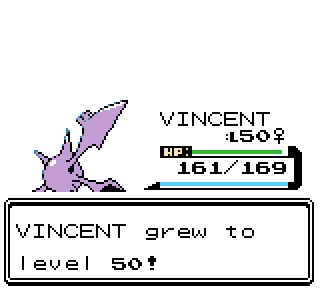 And then we visit Professor Oak one last time at his home in Pallet Town.

Let's make this quick, Oak. I know we don't get along, but I just beat all the gym leaders your homeland has to offer, and the only trainer left for me to fight is Red. I need to find him.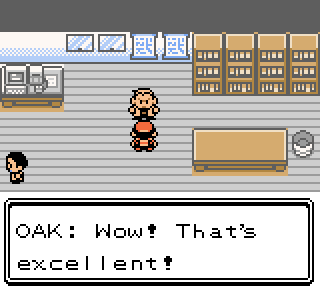 Yeah, yeah, I– Wait, it is?


Definitely. Well done! I'm so proud of you!


Thanks, man. Really, it was nothing.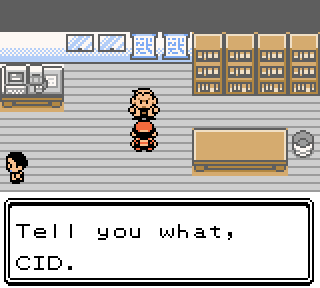 I'll make arrangements so that you can go to Mt. Silver. It's too dangerous for your average trainer, but we can make an exception in your case, Cid. You're hardly an average trainer. Heck, I bet Red won't even stand a chance against you!


That's what I like to hear. Alright, I'll be back when I've taken Red down.


…Hey, by the way…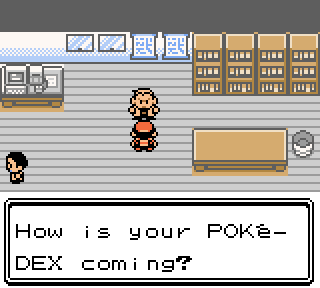 Really? We were having a perfectly civil conversation and you bring that up?

And so we're off on the final push of the final mile of the final leg of our adventure.
Red is waiting.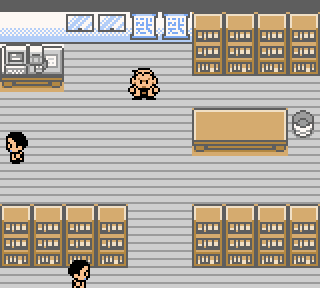 Hahahahaha… Boy, is he.
…
Meanwhile, on Mt. Silver…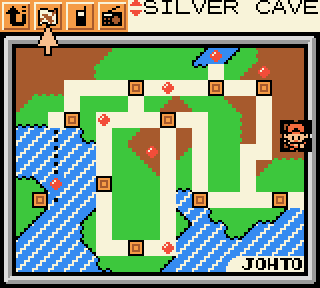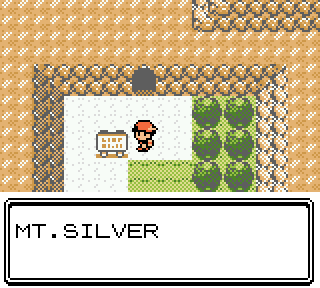 Looks like this is it.

oh boy.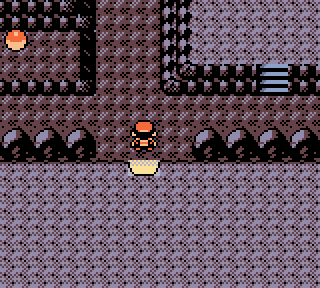 These are the final steps of our great PokeJourney…

I'm going to miss you guys when this is over.
Oh god. Don't start getting teary-eyed on me. Stop sniffling like a little girl.


It's allergies… To the mountain flowers.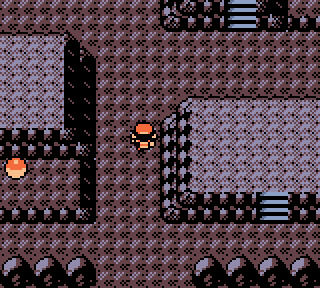 This is the moment we've all been waiting for.

…I wanna be…
Are you singing?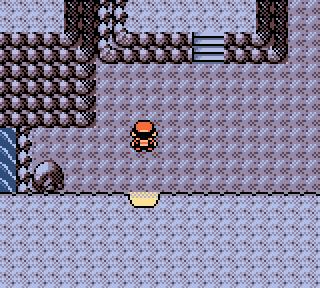 …the very best…

Jesus Christ.

…like no one ever was…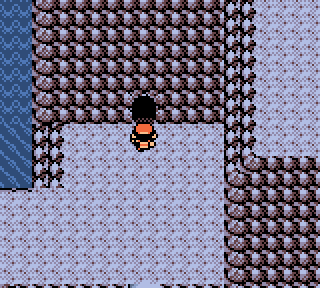 …To catch them is my real test… To train them is my caauuuuse~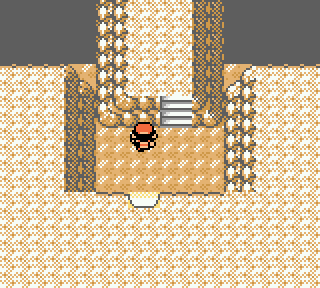 ~I will travel across the land, searching far and wiiide!~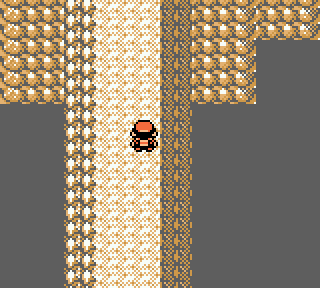 ~Each Pokemon to understand, the power thaat's insiiiiiiiiide!~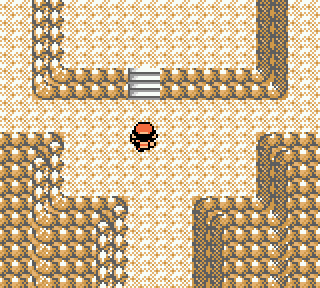 ~POKEMON!!! GOTTA CATCH 'EM ALL!~
If you start telling me I'm your best friend, I'm going to be sick.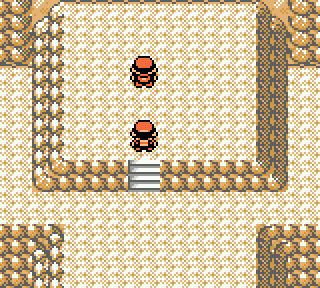 I'M READY FOR YOU, RED! I'M READY TO BE THE VERY BEST!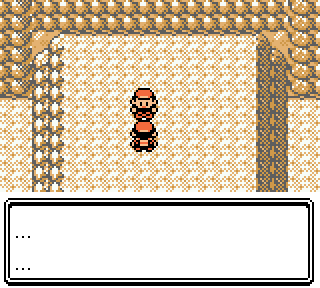 See? Even he thinks you're an idiot.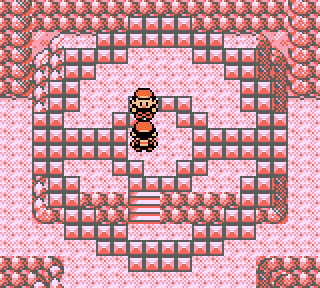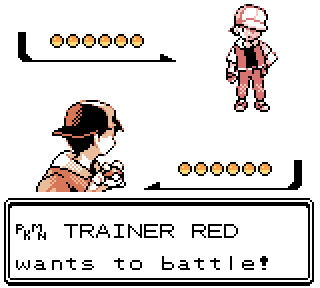 ~Every challenge along the way, with courage I will face! I will battle every day, to claim my rightful place!~ Show me what you've got, Red!!!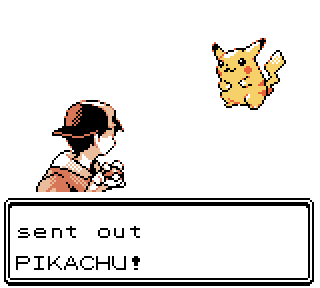 That's all? Just a little pikachu?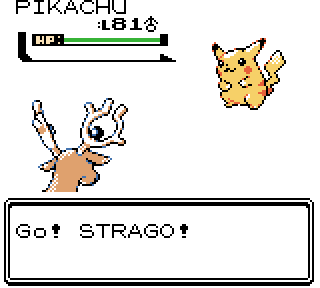 Hold up a sec?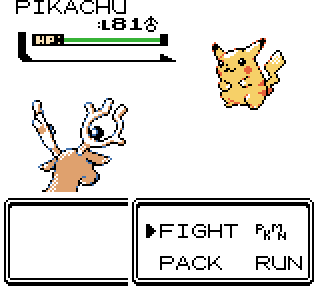 Sorry, what level did you say he was?

Could you… repeat that?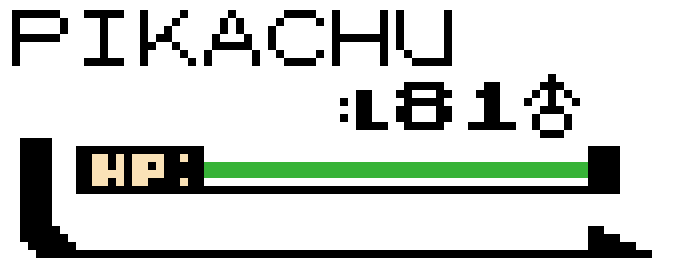 Er. Is there… um…
…Come again?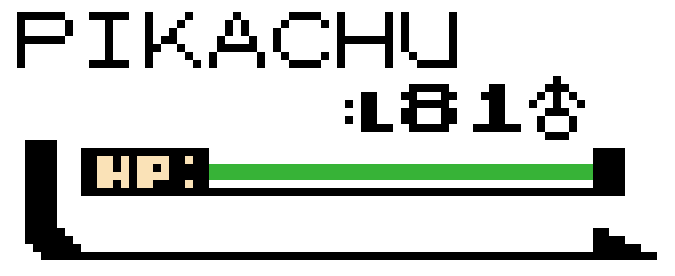 Oh.
Well.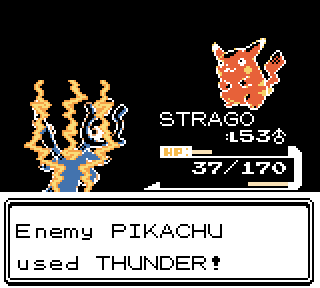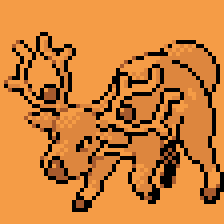 Wait, what.

Stantler and Porom survive… one Thunder each.
Porom even sinks her fangs in before she goes down.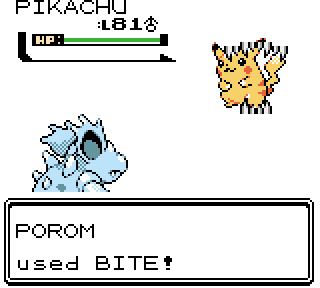 Pretty sure you're not the very best, chief. That's wh–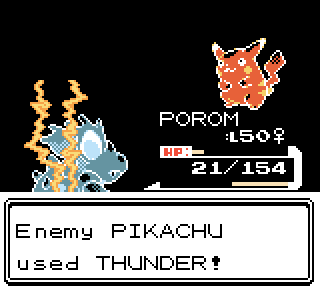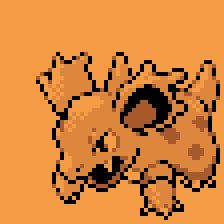 No, we can still pull this one off! Vincent!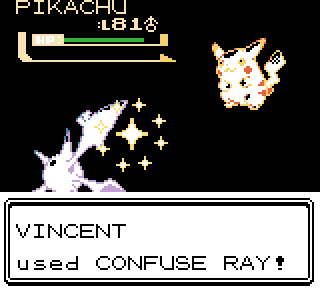 She manages to confuse Red's Pikachu, but…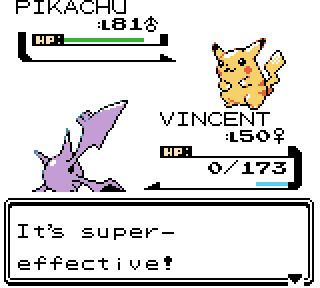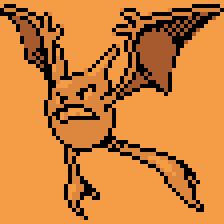 U-uhhh… Guillotine, maybe? Tifa, go!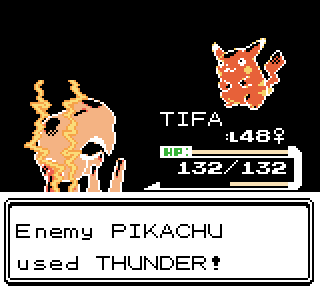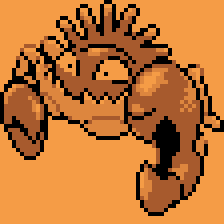 …Bartz?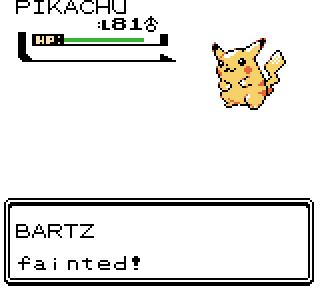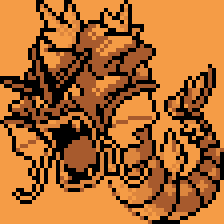 Nope.

Celes. Celes, buddy… You've been with me since the beginning. We can do it together, right?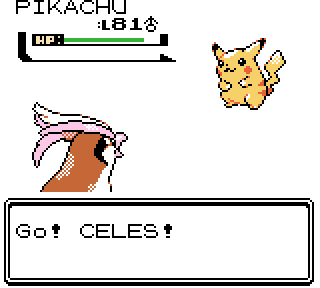 Not a chance. But I'll give him a good run for his money.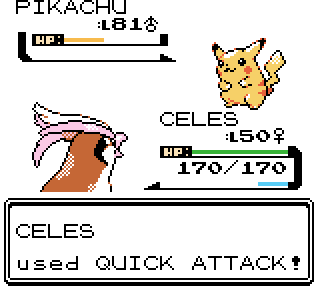 That's our last hit. Our party of 50-somethings got an 81 down into the yellow. Small victories, I guess.
…Followed by crushing defeats.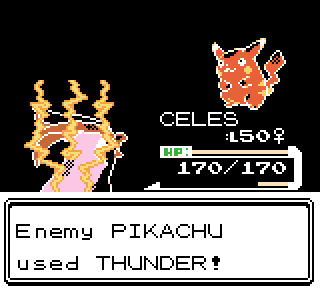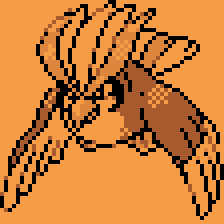 …but I was… the very… best……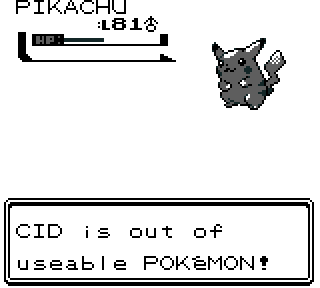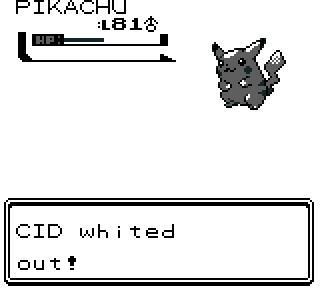 …
That's it.
That's the end of our tale.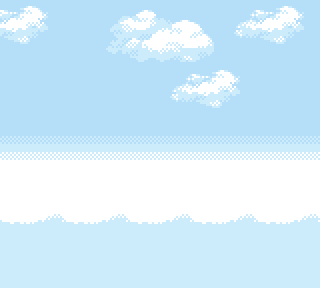 I know — according to my own rules, I'm allowed to keep trying here until I'm totally out of Pokemon. And I do have at least a full party back in the PC. A party of nothing but flying and water Pokemon, but a party nonetheless. Except grinding six Pokemon up to level 80 is… a horrifying thought.
This is our third complete wipe. By normal Nuzlocke rules, I would've been done back in Goldenrod. I'm glad we kept going, but I think it's finally time to make the call.
Enough Pokemon have given their lives in my insane quest for power and fame. This is the end. And what more fitting way to end this disaster of a run than marching the last of our Pokemon straight into the jaws of a death I couldn't even begin to foresee. Hurling their bodies into the meat grinder, the Pokecidal monster that is Pikachu, punkest of punks. We have come full-circle.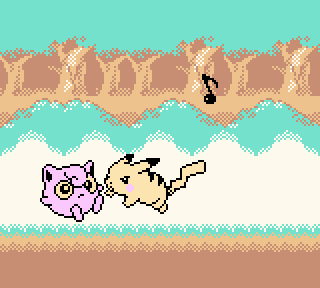 Here we honor the fallen:
Maria, Flaaffy, Level 18
Selphie, Drowzee, Level 14
Setzer, Ekans, Level 11
Faris, Quilava, Level 18
Vivi, Gloom, Level 28
Edge, Raticate, Level 29
Sabin, Graveler, Level 42
Yang, Machoke, Level 33
Galuf, Gyarados, Level 43
Kain, Noctowl, Level 35
Edward, Butterfree, Level 28
Umaro, Dewgong, Level 36
Aeris, Jynx, Level 29
Mog, Togepi, Level 31
Leila, Corsola, Level 45
Rosa, Donphan, Level 50
Strago, Stantler, Level 53
Porom, Nidorina, Level 50
Vincent, Crobat, Level 50
Tifa, Kingler, Level 48
Bartz, Gyarados, Level 57
Celes, Pidgeot, Level 50
That's all she wrote, folks. Thanks for joining us.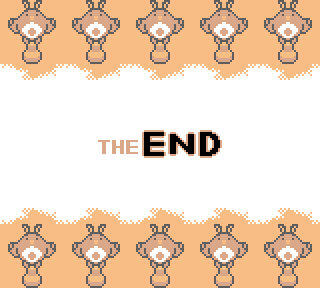 (Really this time.)